Idemia MTop Slim / MorphoTop Slim
MTop Slim R Version 2 - Only one-inch thick, weighing just 400 grams and USB-powered, MTop Slim sets new standards for fingerprint scanning in terms of compactness and efficiency. The combination of a thin, modern design and a high-quality sensor makes the device easier-to-use. Designed to accommodate either slap or rolled acquisition, MTop Slim provides quality indicators to ensure that usable data is collected.
****** Worldwide Shipping available on this product ******
Please contact us for latest pricing.
MTop Slim Overview
Fingerprint capture is one of the most common uses of biometrics, providing ID registration and authentication for large-scale projects, whether governmental (population registration, elections, etc.) or more recently commercial (customer onboarding).
IDEMIA is the world leader in the field, having accurately recorded for its clients the details of two billion people. Now, organizations can harness the benefits of the latest Thin-Film Transistor (TFT) technology with a next-generation live scan device: MTop Slim by IDEMIA.
MTop Slim / MorphoTop Slim Models and Part numbers
Please note the manufacturers part numbers for the MorphoTop Slim products are as follows:

New Version 2 devices with TFT screen (More robust and resistant to sharp objects. Available from April 2020)
MorphoTop Slim R Version 2 - MorphoTop Slim with Slaps, Thumbs and Rolled Fingers - Part Number 293 741 562
MorphoTop Slim Version 2 - MorphoTop Slim with Slaps, Thumbs and Rolled Fingers - Part Number 293 741 533

Version 1 devices:
MorphoTop Slim Version 1 - Morphotop Slim with Slaps and Thumbs - Part number 293 710 132
MorphoTop Slim R Version 1 - MorphoTop Slim with Slaps, Thumbs and Rolled Fingers - Part Number 293 714 143
MTop Slim Hardware Diagram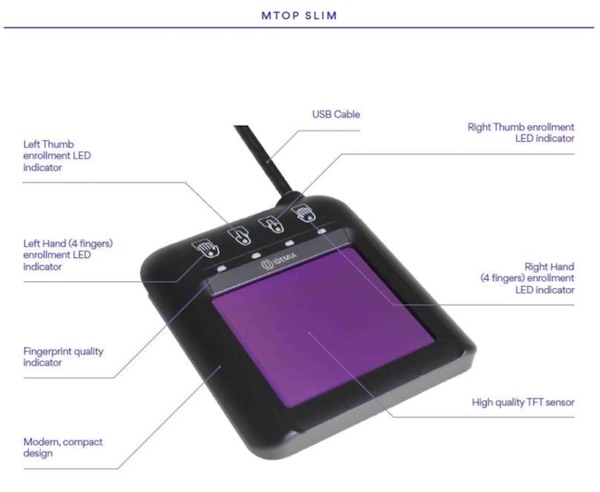 MTop Slim Typical Uses
• Mass Enrolment - On-site capture of citizens data to build civil registry, electoral databses etc.
• Border Control - Enrolment and matching for foreigh travellers
• Criminal Identification - Suspect identification and police investigation• E-KYC (Electronic Know-Your-Customer) - Know your customer procedures for bank and telco use cases
MTop Slim - Technical Specifications

• FBI IAFIS IQS Appendix F Certification
• Resolution: 500 dpi (horizontal and vertical)
• Indoor usage
• IP54 protection
• Connection and power feeding through USB 3.0 and USB 2.0 (700mA)
• Dimensions (L*W*H):15 x 13 x 2,6 cm (5.5 x 4.9 x 1")
• Operating Temperature: 0°C to +50°C
• Slap print size:7.6 x 8.1 cm (3 x 3.2")
• Rolled print size:7.6 x 8.1 cm (3 x 3.2") in USB 3.0 7.6 x 4.0 cm (3 x 1.6") in USB 2.0
• Weight: 400g
• EMC/Safety Standards: CE, FCC • RoHS compliant
• MTBF in excess of 50,000 hours
Software Options
a) MLS SDK - software development kit for image acquisition
b) Idemia BOP - advanced software dvelopment kit, which ensures high quality image capture of fingerprint sequences:
Automatic acquisition to speed up capture
Real time quality measurement
Slap sgementation
Sequence detection
Rolled reconstruction
Minutiae coding (ISO19794-2, ANSI378)
c) MESA (Multi-Enrolment Services Application - powerful enrolment solution
About Idemia - Worldwide recognised know-how
Idemia is a leading global company in the field of fingerprint-based biometrics, with innovative capabilities acknowledged worldwide. Idemia has acquired a deep knowledge, through experience, in designing and manufacturing biometric terminals and products over 100,000 slap fingerprint units and over 3,000,000 fingerprint sensors sold.
After enrolling moer than 1 billion people across the globe, Idemia is proud to launch a breakthrough, TFT(*)-based livescan device in the MorphoTop Slim. Breaking with previous generations, it is 6 times smaller than current products, which greatly facilitates its integration into mobile solutions or existing structures.
(*) Thin-Film Transistor technology
For more information on the MorphoTop Slim / MTOP Slim product range please email us at sales@eyenetwatch.com