SecuGen Hamster Pro Duo CL (XU20CL™)
SecuGen Hamster Pro Duo CL combines SecuGen's newest U20 fingerprint sensor with an NFC / contactless smart card reader. Featuring a sleek, ergonomic design, the Hamster Pro Duo CL is built with the industry's most rugged and advanced optical sensor using patented and patent-pending fingerprint technology that captures high quality fingerprint images.
Buy more for less:
1-9

items

£119.95

/ each

10-19

items

£116.95

/ each

save

2.5%

20

or more items

£113.95

/ each

save

5%
SecuGen Hamster Pro Duo CL is suitable for any contactless smart card application such as physical access control, personal identity verification, and national ID programs where dual factor authentication is needed for higher security without sacrificing convenience.
Features
- High-performance, maintenance-free optical fingerprint sensor resistant to scratches, impact, vibration and electrostatic shock
- Auto-On™ (Automatic Finger Placement Detection) *
- Smart Capture™ (Automatic Image Adjustment to Accomodate Moist & Dry Fingers) **
- CCID compliant smart card reader with built-in antenna for NFC tag access, USB firmware upgradability, and SAM (Secure Access Module) slot for high level of security in contactless applications
- USB bus-powered, no additional power supply required
- Sleek and ergonomic
- Readily accessible for any finger
When used with SecuGen Software:
- Fast and accurate verification
- Latent print image removal (does not accept prints left behind)
- Encryption of fingerprint templates (with SecuGen Proprietary templates)
- Fingerprint Device Recognition™
- Multi-Device Connection™
*Auto-On™ is an Automatic Finger Placement Detection technology that automatically checks for the presence of a finger. When used with Auto-On-compatible software, the Hamster Pro Duo CL will turn on and scan your finger as soon as you touch the sensor - all without having to prompt the system.
** Smart Capture™ ensures quality fingerprint scanning of difficult fingers. By automatically adjusting the brightness of the sensor, Smart Capture allows the Hamster Pro Duo CL to capture high quality fingerprints from a wide range of traditionally difficult fingers, including those from dry, wet, scarred or aged skin, and even in bright ambient conditions such as under direct sunlight.

Benefits of Using SecuGen Fingerprint Readers
Backed by the industry's best warranty, years of field use and proven reliability under extreme conditions, SecuGen fingerprint readers provide consistent performance and security for a growing number of applications in physical and information security, point-of-sale, time & attendance, and access control systems.
When used for biometric authentication as part of an overall security program, SecuGen fingerprint readers can help reduce the hassles of password overload, decrease the risks of security breaches, improve accountability and add true non-repudiation, all while making it more convenient and intuitive for almost any user.
Look to SecuGen for advanced, fingerprint biometric technologies that let your fingerprints act like digital passwords that cannot be lost, forgotten or stolen.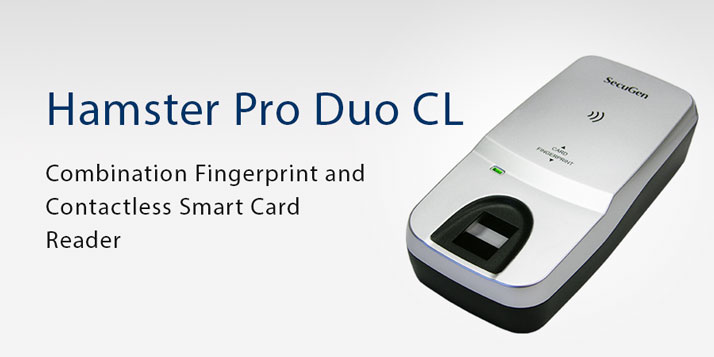 Specifications
Name (Model): Hamster Pro Duo CL (XU20CL™)
Dimensions / Weight: 160.0 x 77.5 x 37.7 mm / 250 g
Interface: Hi-Speed USB 2.0 (fingerprint reader), USB 2.0 Full-Speed (card reader)
Operating Temperature: 0° ~ 50°C
Operating Humidity: 90% or less RH, noncondensing
Supply Voltage / Max Current: 5 V DC / 450 mA
Warranty: One year limited
Certifications: FCC, CE, KCC, RoHS
Supported Operating Systems

Windows 10 / 8.1 / 8 / 7
Windows Server 2012, 2008 R2
Android 3.1 and above, Java, Linux

Fingerprint Reader
Model / Type: SecuGen U20™ optical fingerprint sensor
Fingerprint Image Resolution / Size: 500 DPI / 300 x 400 pixels
Fingerprint Platen Size (Effective Sensing Area): 18.2 mm x 22.9 mm (15.24 mm x 20.32 mm)
Fingerprint Capture Speed: 0.2 ~ 0.5 second with Smart Capture™
Supported Standards: FIPS 201 (PIV-071006), INCITS 378, ISO/IEC 19794-2, ISO/IEC 19794-4, Mobile ID FAP 20, NIST SP 800-76

Card Reader
Model / Type: ACR1251U-A1 contactless smart card reader
Operating Distance / Frequency: Up to 50 mm (depends on tag type) / 13.56 MHz
Read / Write Speed: Up to 424 kbps
Supported Smart Card Interface: ISO14443 Type A & B, Mifare (7-byte UID, Plus, DESFire), FeliCa, and 4 types of NFC (ISO/IEC18092) tags
Supported APIs: PC/SC, CT-API (through wrapper on top of PC/SC)
Built-in Peripherals: User-controllable bi-color LED, user-controllable buzzer, ISO 7816 compliant SAM slot
Compliance: ISO 18092, ISO 14443, ISO 7816, PC/SC, CCID, LASCOM, EN60950, VCCI, MIC, KC
To contact us on this product please click here: sales@eyenetwatch.com or use our contact us form.
Customers who viewed this product bought