Safran Morphosmart CBM E3 Fingerprint Module
The MorphoSmart™ CBM E3 (Manufacturers part number: 293658770) is a high security compact fingerprint module. It utilises Safran Morpho's patented optical technology and biometric algorithms, which have been tested and certified worldwide for its high accuracy and performance as well as their high levels of robustness. The MorphoSmart™ CBM E3 provides a cost effective and easy to install solution for the fast and secure processing of high quality fingerprint images.
****** Worldwide Shipping available on this product ******
Please contact us for order quantities of 25+ units.
Buy more for less:
1-4

items

£98.95

/ each

5-9

items

£96.95

/ each

save

2.02%

10-24

items

£93.95

/ each

save

5.05%

25

or more items

£90.95

/ each

save

8.08%
SAFRAN MORPHOSMART™ CBM E3 - THE MOST COMPACT OPTICAL MODULE ON THE MARKET
Its flat design (13.65mm height), small footprint (53.7*33.7mm) and very light weight (20g) make them the ideal components for integration into compact and mobile products.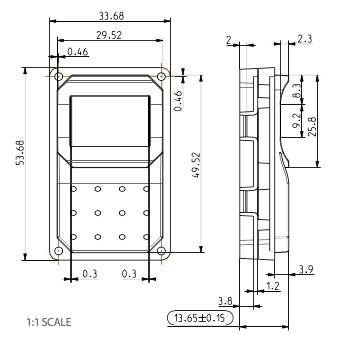 MORPHOSMART™ CBM-E3: BEST IN SERIES, BEST IN CLASS
The CBM E3 incporates a number of key additional security features over and above those in its sister product the MorphoSmart CBM V3.
| | |
| --- | --- |
| | Enhanced image quality The CBM-E3's extremely fine tuned design produces a fingerprint image certified PIV IQS by the FBI. The reference standard in terms of single fingerprint image quality (equivalent to ISO 19794-4:2011 Annexure B) was defined to ensure in particular interoperability between multiple solutions. |
| | Fake Finger Detection The CBM-E3 detects a large panel of counterfeit fingerprints, including but not limited to those made with latex, gelatin, Plasticine, Kapton, transparent film, silicone, rubber, Play-Doh, graphite or paper. |
The CBM E3 is one of two models in the range the other fingeprint reader module is the CBM V3. A comparison of each model and their features is shown below: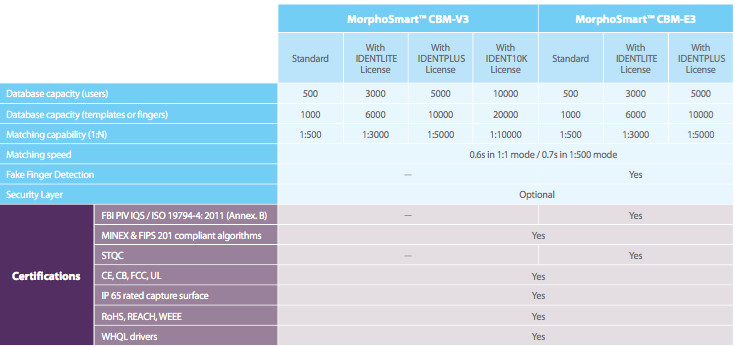 HIGH QUALITY FINGERPRINT ACQUISITION
Optical technology offers superior image quality
• High performance sensor: 500 dpi, 256 grey levels
• Available output formats include RAW, iso 19794-4or WSQ- compressed (under license) images
Lessons learnt from real world deployments put into practice
• Mechanical/visual guides ensure intuitive finger placement
• Interfaces display key information to help users: live image, messages (position, pressure etc.) and fingerprint quality score
Large acquisition surface for optimised capture and repeatable placement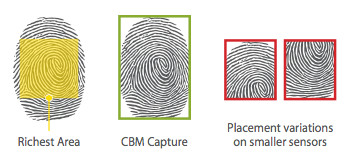 The CBM E3's capture surface (14x22mm) ensures that the richest area on fingerprints is systematically captured time after time. The acquisition surface contributes significantly to the overall biometric performance: • It determines the amount of minutiae data that can be captured • Other, smaller sensors, allow different areas of the same finger to be presented with each placement, leading to poor data acquisition, narrow areas of overlap and matching errors.
Robustness
IP65 rated sensing area (sealed against dust and liquids)
Resistance to electro-static discharges, scratches and shocks
Operating conditions: -10°c to 50°c / 10% to 80% RH
Storage conditions: -20°C to 70°C / 5% to 95% RH
Standard interfaces: USB and Serial (TTL Open-Collector)
Comprehensive Software Development Kit: MorphoSmart™ SDK. Available for Windows, Linux and Android Platforms
Includes a BioAPI interface
NB: Low level protocol (ILV) is also available
KEY FEATURES AND SECURITY FEATURES
SIMPLE INTEGRATION INTO A VARIETY OF SOLUTIONS
The Morphosmart™ CBM E3 is designed for quick and easy integration into a variety of devices and applications: mobile devices, POS applications, ATM's and kiosks, vending machines, access control and time & attendance terminals, keyboards, alarm systems, safes, printers, locker systems, voting machines and remote controls, etc.
Integrators can simply and easily add the advantages of the CBM E3 fingerprint module to their applications, without having specific knowledge of biometrics.
• The foremost compact optical fingeprint module currently available
• Fast integration of fingeprint recognition into any development
• Highest quality fingerprint collection
• Embedded processing capabilities: MINEX compliant Coder & Matcher inside
• FBI PIV IQS certification and fake finger detection
• Extensive security features, incorporating digital signature and data encryption
| | |
| --- | --- |
| | |
| CBM E3 for Mobile Applications | CBM E3 for POS Applications |
| | |
| CBM E3 for Kiosk and ATM Applications | CBM E3 for Locker and Gym Applications |
| | |
| CBM E3 for Access Control and Time and Attendance Solutions | |
To contact us on this product please click here: sales@eyenetwatch.com or use our contact us form
Customers who bought this product also bought
Customers who viewed this product bought