Safran Morphosmart CBM Fingerprint Module
Please note: This OEM module incorporating the Safran MorphoSmart V2 and Safran MorphoSmart E2 has now been replaced by the Safran Morphosmart CBM V3 and the Safran Morphosmart CBM E3 modules. These are direct replacements for the two models incorporating hardware, firmware and design upgrades. 
• The best, most compact optical modules on the market
• Easy integration of biometric functions into multiple applications
• High quality fingerprint acquisition
• Embedded processing capabilities: MINEX compliant Coder & Matcher inside
• FBI PIV IQS certification and fake finger detection available
• Extensive security features, including encryption and digital signature
This module has the same technical specifications as the Morphosmart MSO1300 and Morphosmart MSO1350 fingerprint readers. It can be intragted into applications with the Morphosmart SDK or the Morphokit SDK.
Overview
The MorphoSmart™ CBM (Compact Biometric Module) is part of a range of compact fingerprint modules. They use Morpho's patented optical technology and biometric algorithms, both acknowledged worldwide for their high levels of accuracy and performance and their exceptional robustness.

Whether used for off-the-shelf or custom-made applications, the MorphoSmart™ CBM Series offers a flexible, cost effective solution for the fast and secure processing of high quality fingerprint images.

Integrators can rapidly add the benefits of fingerprint recognition to their applications, without having specific knowledge of biometrics.
Dimensions and Size
| | |
| --- | --- |
|  Their original flat design (13.65mm height), small footprint (53.7*33.7mm) and very light weight (20g) make them the ideal components for integration into compact and mobile products. |   |
The Most Compact Optical Modules on the Market
Optical technology offers superior image quality
- High performance sensor: 500 dpi, 256 grey levels
- Available output formats include RAW, ISO 19794-4or WSQ compressed (under license) images
Lessons learnt from real world deployments put into practice
- Mechanical/visual guides ensure intuitive finger placement
- Interfaces display key information to help users: live image, messages (position, pressure etc.) and fingerprint quality score
Large acquisition surface for optimised capture and repeatable placement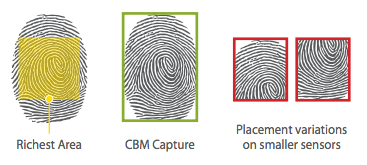 The CBM's capture surface (14x22mm) ensures that the richest area on fingerprints is systematically captured time after time. Acquisition surface contributes significantly to the overall biometric performance:
- It determines the amount of minutiae data that can be captured
- Other, smaller sensors, allow different areas of the same finger to be presented with each placement, leading to poor data acquisition, narrow areas of overlap and matching errors.
MORE THAN SENSORS, INTELLIGENT MODULES
While most sensors on the market are only capable of producing fingerprint images, the CBM modules are also capable of processing them internally, running powerful algorithms directly on their embedded processor.
1 Image Compression using WSQ algorithm from FBI/NIST
2 Biometric Feature Extraction to generate templates
- Feature Extractor is MINEX/FIPS 201 compliant
- Proprietary, ISO 19794-2 or ANSI 378 template formats available
- Templates can be stored in CBM's internal database (up to 10 000 templates)
3 Biometric Matching
- Matcher is MINEX/FIPS 201 compliant
- 1:1 authentication or 1:N identification
- High accuracy: the false acceptance rate (FAR) is configurable down to 10-8 (depending on the security requirements) and maintained regardless of number of
users in database
- Fast matching (refer to the table on right page)
4 CBM is capable of addressing juvenile fingers
5 CBM implements an anti-latency feature that detects fingerprint traces reactivated under certain lighting conditions
Embedded Security Features
When sensitive data (image or template) needs to be shared with a Host System, CBM modules are capable of securing them before dispatching.
1 Multiple security principles available:
- Symmetric and asymmetric keys,
- Key derivation,
- Hashing algorithm,
- Random number generator, etc.
2 Image and Template Encryption for the sake of confidentiality
3 Template Signature (X9.84 standard) to guarantee the origin and the integrity of the data sent to the Host System
4 The communication channel between CBM and Host/Distant System can be protected using either Secure Tunneling or Offered Security mode
For more information on this product range please email us at sales@eyenetwatch.com. 
Customers who bought this product also bought
Customers who viewed this product bought